Energy Efficient Home Heating Products In Cornwall & Eastern Ontario
Baker Heating and Air Conditioning Ltd. has been an exclusive dealer of York® home heating products in Cornwall and the eastern Ontario Market since 1973. The advantage to the customer of being an exclusive dealer is price and aftermarket service of the product. There is not a York product that our technicians are not familiar with, and as a result we do not waste time when troubleshooting a problem onsite. Our experience, knowledge and diagnostic and repair skills ensure that the customer receives tremendous value for services rendered.
York forced air gas furnaces are the industry leader in efficiency, reliability and price. York was founded in 1874 is now a wholly-owned subsidiary of Johnson Controls Inc. The residential heating products are continuously refined and improved to meet the needs of end users all around the world. Manufacturing, quality control, testing and engineering is done at the 1,000,000 sq. ft. facility in Wichita, Kansas.
The following are some of the most popular home heating products we sell and install, as well as the features they offer:
---
TM9E LX Series High Efficiency Gas Furnace
Features:
95.5% AFUE efficiency on every size, resulting in tremendous energy savings (the highest base standard efficiency on the market)
Energy Star rated
X13 High Efficiency DC motor reduces electrical costs and increases air conditioner efficiencies
Compact 33″ height allowing for installation in basements that do not have much height
Multi-positional to fit all applications
Tubular Primary and Stainless Steel heat exchangers that are protected with a lifetime warranty
Computerized control board with self-diagnostic fault codes which ensures reduced time when servicing is required
Insulated blower compartment to ensure reduced noise
Easily convertible to propane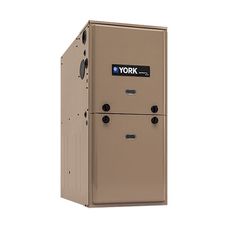 ---
TM9V LX Series High Efficiency Gas Furnace
Features:
96% AFUE efficiency on every size, resulting in tremendous energy savings
Energy Star rated
Compact 33″ height allowing for installation in basements that do not have much height
Fully variable ECM blower fan motor, ensuring quiet operation
Two-stage operation ensures you only get the amount of heat needed
Two-stage operation helps to reduce fluctuations in heat, improve comfort within the home, and in some instances can overcome ductwork deficiencies that limit heat to areas of the home.
Multi-positional to fit all applications
Tubular primary and stainless steel heat exchangers that are protected with a lifetime warranty
Computerized control board with self-diagnostic fault codes, which ensures reduced time when servicing is required
Insulated blower compartment to ensure reduced noise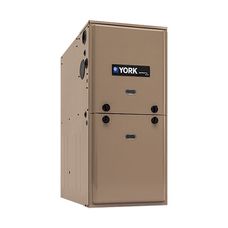 ---
YP9 AFFINITY Series High Efficiency Gas Furnace
Features:
97.5% AFUE efficiency minimum on every size resulting in tremendous energy savings (the highest efficiency on the market)
Modulating speed High Efficiency DC motor reduces electrical costs and increases air conditioner efficiencies and varies in speed based on need
Energy Star rated.
Quietest furnace on the market
Reduces swings and fluctuations in temperature throughout the house
Compact 33″ height allowing for installation in basements that do not have much height
Multi-positional to fit all applications
Tubular Primary and Stainless Steel heat exchangers that are protected with a lifetime warranty
Computerized control board with self-diagnostic fault codes which ensures reduced time when servicing is required
Insulated blower compartment to ensure reduced noise
Easily convertible to propane